AMG160-1F-1EU
5060811142066
Industrial 1 Port Ethernet Extender Over UTP, 1 x 10/100Base-T(x) RJ45 Port, 1 x Extend-Net™ UTP RJ45 Port, Supports 802.3at/bt 30/60/90W PoE Pass-Through, DIN Rail / Wall Mount, -40°C to +75°C, 24-56VDC Power Input
Features
Compact size – ideal for confined spaces, including conduit, camera poles and roadside cabinets
-40°C to +75°C temperature maintains performance in extreme conditions
DIP switches for Local/Remote & 10/100Mb modes
Automatic 1-pair or 4-pair cable selection
Standalone, DIN rail or wall mountable – flexible mounting options are included with every unit
Extends Ethernet up to 550m (1,800 ft) at 100Mbps
Extends Ethernet up to 1000m (3,280 ft) at 10Mbps
Supports 15W, 30W, 60W & 90W PoE Pass-Through

Integrated surge protection on Extend-Net™ port

Unicast, Multicast & Jumbo Frames are supported along with full symmetrical bandwidth performance
Designed in the USA & UK. Manufactured in the United Kingdom
AMG Lifetime Support Warranty

AMG's Extend-Net™ industrial Ethernet extenders provide 10/100Mb Ethernet over long distances of coax, 2-wire twisted pair and UTP cables with support for pass-through 30W, 60W & 90W PoE. These single channel models feature coaxial, screw terminal or RJ45 connectors and support distances up to 1Km.
Designed in a compact tube style housing that can be DIN rail or wall mounted using the included accessory brackets, the AMG160 Extend-Net™ series industrial Ethernet Extenders are ideally suited for connecting equipment to Ethernet networks over long distances using standard Coax & UTP cables.
Distances up to 550m @ 100Mb speed and 1000m @ 10Mb speed are possible over standard cables.
The AMG160 Coax and 2-Wire series support IEEE802.3af 15.4W and IEEE802.3at 30W PoE pass-through while the UTP series additionally support IEEE802.3bt 90W PoE pass-through and are suitable for powering the latest PoE devices over a wide industrial operating temperature range at extended distances.
A 24-56VDC local power input is provided for instances where local power is available and the maximum possible PoE level is required at the remote device but this is not required for operation when used with a PoE enabled edge device such as an IP camera as the units also support pass-through PoE powering.
Product Features
---
Application Diagram
Power Consumption (W)
1.5
Power Interface
2 Pin Removable Terminal Block
Input 1 Voltage
24-56 VDC
PoE Pass-Through
Heat Dissipation at Max Load (BTU/h)
312
Recommended PSUs
AMGPSU-I24-P36 (36W 24VDC)
Ethernet Standards (Media Converters)
IEEE 802.3i (10Base-T)
IEEE 802.3u (100Base-TX)
IEEE 802.3af (15W PoE)
IEEE 802.3at (30W PoE+)
IEEE 802.3bt (60 & 90W PoE)
Distance
550 Meters (1
800 ft) @ 100Mb
1000 Meters (3
280 ft) @ 10Mb
LED Indicators (Extend-Net)
Power
Ethernet Link / Activity
Ethernet 100Mb Speed
Extend-Net Link / Activity
Extend-Net 100Mb Speed
DIP Switch Function
10Mb or 100Mb Mode
Remote or Local Operation
Protection
Overload Current
High Impedance PoE Pass-Through with Start-up Voltage Detection & Current Limiting
RJ45 Port(s) Feature
1.5 kV Isolation Protection
Auto MDI/MDI-X
Compliance
NDAA Compliant
TAA Compliant
Dimension Drawing (mm)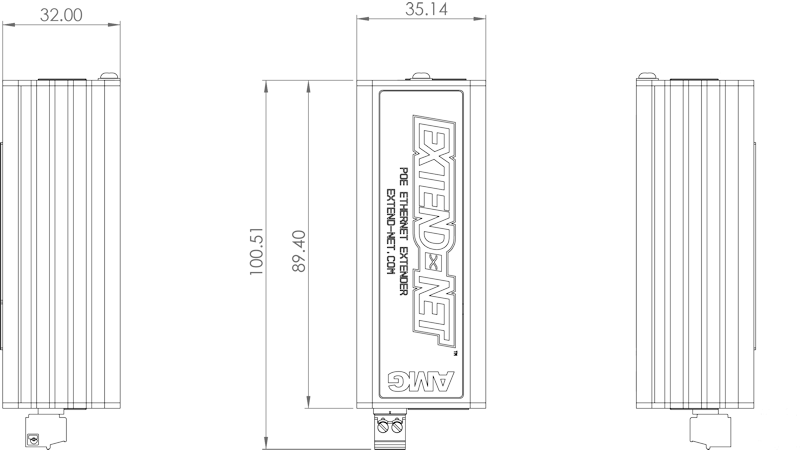 Dimensions
Width = 89 (mm) / 3.5 (in)
Depth = 35 (mm) / 1.38 (in)
Height = 32 (mm) / 1.26 (in)