AMG570-8GAT-3S-P240
5060811141281
Industrial Managed Switch, 8 x 10/100/1000Base-T(x) RJ45 Ports with 802.3at 30W PoE & 3 x 100/1000/2.5G Base-FX SFP Ports, DIN Rail / Wall Mount, -40°C to +75°C, 48-56VDC Power Input
Features
Innovative thermally efficient housing ensures high levels of device reliability under full load
DIN rail or wall mountable - quick to install and remove for maintenance
Compliant with all IEEE 802.3 speeds (i/u/ab/z)
Triple Speed SFP ports (up to 2.5Gb Speed)
Supports RSTP, MSTP, ERPS, SNMP v1-3 and IGMP v1-3
IEEE 802.1x port security enabled
Supports 10K bytes jumbo frames
Supports 15W and 30W PoE
Layer 3 Static Routing
Manufactured in the United Kingdom
AMG Lifetime Support Warranty


AMG570 series layer 2+ managed industrial Ethernet switches are designed in a thermally efficient DIN rail or wall mount housing and have 8 Gigabit Ethernet RJ45 ports with an additional 3 multi-rate SFP ports that support 100Mb, 1Gb and 2.5Gb for high speed data uplink into core networks, providing application and site flexibility.
Available as a non-PoE model as well as multiple PoE models for IEEE802.3at 30W and/or IEEE802.3bt 60/90W they are suitable for powering the latest high powered PoE devices over a wide industrial operating temperature range.
The AMG570 series support a wide range of management functions as well as Rapid Spanning Tree, Multiple Spanning Tree and Ethernet Ring Protection Switching (ERPS) protocols for network redundancy. IGMP functionality is supported to handle the multicast traffic which is commonly used in IP CCTV deployments.
SFPs and PSUs need to be ordered seperately.
100Mb/1/2.5Gb SFP Ports
3
Power Interface
8 Pin Removable Terminal Block
Recommended PSUs
AMGPSU-I48-P240 (240W 48VDC)
AMGPSU-I48-P480 (480W 48VDC)
Access (Policy) Control List (ACL L2/3/4)
Bandwidth Control
Ingress Packet Filter
Egress Rate Limit
DHCP
Client / Relay (IPv4 & IPv6)
Option 66/67/82
IP Authorisation Managers
IPMC
64 Profiles (128 Rules Each)
LACP
Dynamic Trunk
Static Trunk
LLDP
Link Layer Discovery Protocol
Management Access
SNMP
Web GUI
Telnet / SSH v2.0 / CLI
CLI
MVR
Multicast VLAN Registration
Ping Watchdog with Reboot
Priority Queue
WRR
Strict
Hybrid Priority
Redundancy
STP
RSTP
MSTP
ERPS (G.8032)
Static Routing (Interfaces)
VLAN
802.1Q
Port Based VLAN
Private VLAN
Voice VLAN
PoE Management
Enable/Disable
Priority Level
Power Level
Scheduling
Power Control
Manual On/Off
Schedule On/Off
Alive Check
Time Zone & Daylight Savings
Ethernet Standards (Managed Switch)
IEEE 802.3i (10Base-T)
IEEE 802 3u (100Base-TX & 100Base-FX)
IEEE 802.3ab (1000Base-T)
IEEE 802.3z (1000Base-X)
IEEE 802.3af (15W PoE)
IEEE 802.3at (30W PoE+)
IEEE 802.3x (Flow Control)
IEEE 802.3az (Energy Efficient Ethernet)
IEEE 802.1D Spanning Tree (STP)
IEEE 802.1w Rapid Spanning Tree (RSTP)
IEEE 802.1s Multiple Spanning Tree (MSTP)
IEEE 802.3ab (LLDP)
IEEE 802.1p (QoS Priority Marking)
IEEE 802.1Q (VLANs)
IEEE 802.1v (VLAN Classification)
IEEE 802.1X (Port Security)
RFC1112 (IGMP v1)
RFC2236 (IGMP v2)
RFC3376 (IGMP v3)
IEEE 802.3ad (Port Trunk with LACP)
RFC2030 Simple Network Time Protocol (SNTP)
RFC2131 Dynamic Host Configuration Protocol (DHCP)
ITU-T G.8032 Ethernet Ring Protection Switching (ERPS)
Dimension Drawing (mm)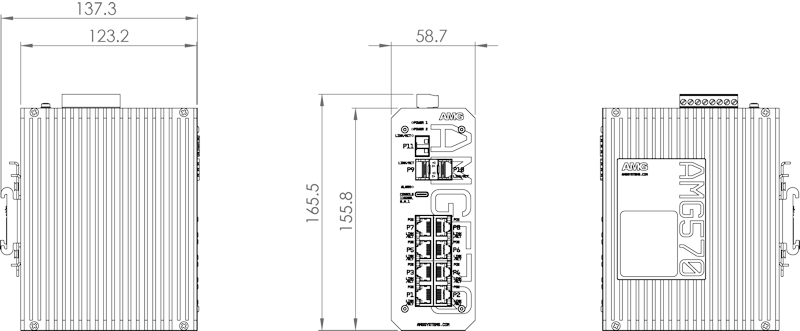 Dimensions
Width = 59 (mm) / 2.32 (in)
Depth = 123 (mm) / 4.84 (in)
Height = 156 (mm) / 6.14 (in)
3D Model
If the 3D model fails to load click the full screen icon (four arrows) in the top right corner.