AMG110M-1G-SP
5060811141694
Industrial PoE Surge Protector, 1 x 10/100/1000Base-T(x) RJ45 Port In-Line, 65W PoE Support, -40°C to +75°C
Features
Ultra compact size – can be connected in-line with standard RJ45 ports on correctly grounded equipment
-40°C to +75°C temperature maintains performance in extreme conditions
Supports Ethernet speeds of 10/100/1000Mb
No additional ground cables required
Certified to multiple ESD and surge protection standards including EN 61000-4-2, EN 61000-4-5 and IEC 61643-11
Simple and quick installation process
Supports PoE Pass-Through up to 65W
Transparent to all types of traffic and protocols including VLAN's, Jumbo Frames, Multicast etc.
AMG Lifetime Support Warranty
AMG's industrial Ethernet surge protectors provide protection for 10/100/1000Mb Ethernet equipment with support for pass-through PoE up to 65W. These single channel models are designed to plug into and protect existing RJ45 ports.
Designed in a compact in-line RJ45 housing the AMG110M surge protector provides easy to install surge & ESD protection for Ethernet based equipment that may be susceptable to damage from surge or voltage transient events.
The RJ45 male connector simply plugs into an existing RJ45 port on a correctly grounded Ethernet device and provides a protected female RJ45 connection for the cable to connect to, protecting the port from external surge or voltage transients that may damage the port or Ethernet device.
Industry leading protection is provided to EN 61000-4-2, EN61000-4-5 and IEC 61643-11 standards. To ensure the correct protection the device that the AMG110M is being inserted into must be correctly grounded to ensure any surge or transient voltage has an obstruction free path to ground which then protects the equipment from damage.
Product Features
Internal Protection Diagram
---
Application Diagram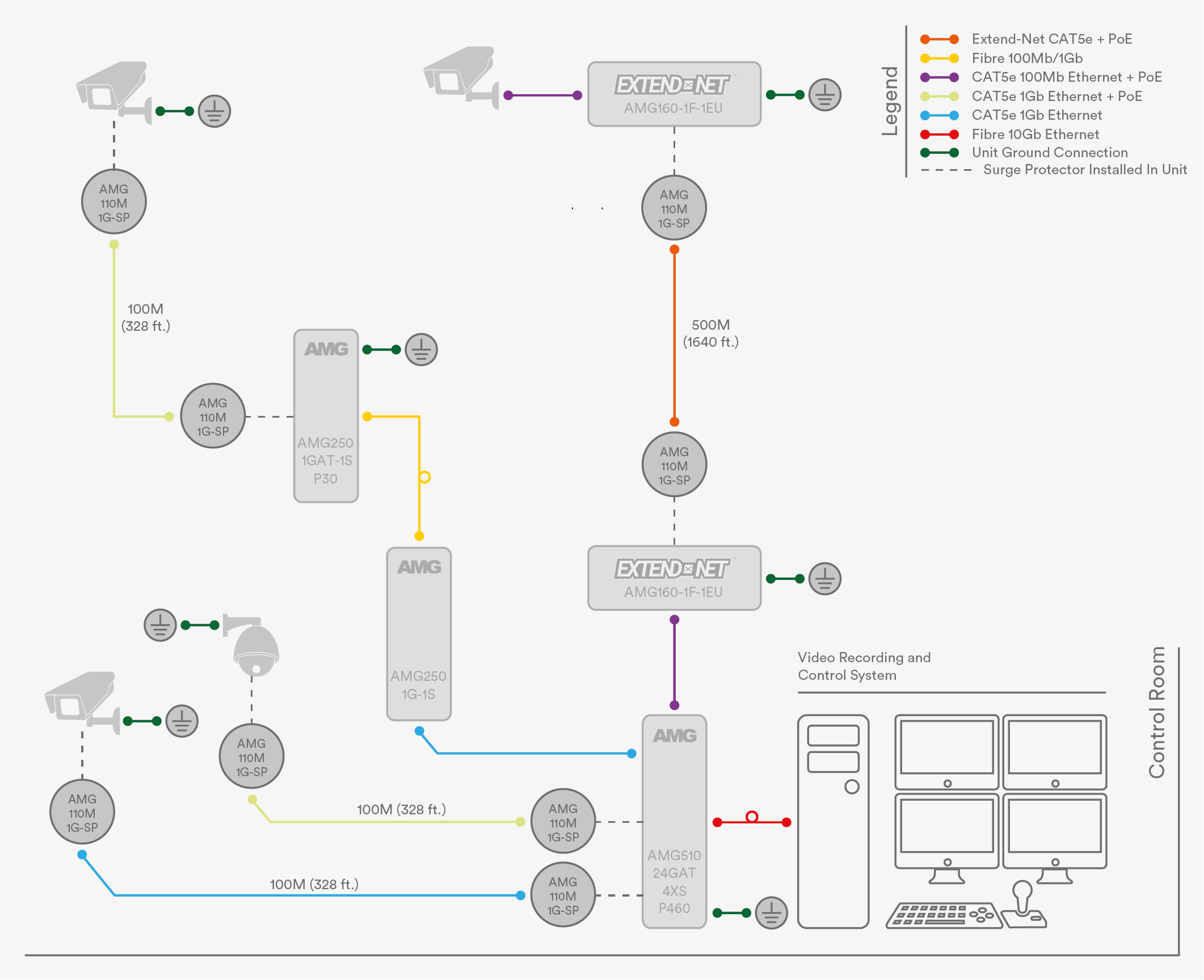 Heat Dissipation at Max Load (BTU/h)
0
Ground Connection
Integrated Ground to RJ45 Port Shield
VLAN
Transparent To VLAN Traffic
Jumbo Frames
Transparent To Jumbo Frames
IGMP Snooping
Transparent To Multicast Traffic
LED Indicators (Ethernet)
Light Pipe (Pass-Through LED)
Max Continuous Operating Voltage (Uc)
Discharge Current
0.3kA x 8 (Line to GND)
(Imax @ 8/20µs)
Voltage Protection
45V @ 0.3kV (8/20) (Up @ Line to GND)
Response Time
<100ns (Line to GND/PE)
<1ns (Line to Line)
Ethernet Standards (Surge Protectors)
IEEE 802.3i (10Base-T)
IEEE 802.3u (100Base-TX)
IEEE 802.3ab (1000Base-T)
IEEE 802.3af (15W PoE)
IEEE 802.3at (30W PoE+)
IEEE 802.3bt (65W PoE Max)
Dimension Drawing (mm)
Dimensions
Width = 16 (mm) / 0.63 (in)
Depth = 34 (mm) / 1.34 (in)
Height = 16 (mm) / 0.63 (in)
3D Model
If the 3D model fails to load click the full screen icon (four arrows) in the top right corner.
Product Compatibility
AMG Product
Single Ports
Back-to-Back Ports
Side-to-Side Ports
AMG150 Series

Yes

N/A
N/A
AMG155 Series

Yes

N/A
N/A
AMG160 Series

Yes

N/A
N/A
AMG172 Series

Yes

N/A
N/A
AMG210M Series

No

N/A

No

AMG250 Series

Yes

N/A

Yes

AMG255 Series

Yes

N/A
N/A
AMG350 Series

Yes

N/A

Yes

AMG510 Series

Yes

Yes

No

AMG560 Series

Yes

Yes

Yes

(DIN Rail Units Only)

AMG570 Series

Yes

Yes

Yes

AMG750 Series

Yes

Yes

Yes

AMG9HMEC Series

Yes

N/A
N/A
AMG9HMU Series

Yes

N/A

Yes

AMG9HM2P Series

Yes

N/A

Yes

AMG8870F Series

No

N/A
N/A
AMGSFP-VDSL2 Series

Yes

Yes

No