AMG8870F-03-90
5060811140956
Outdoor wireless radio up to 870Mbps when using 80Mhz channels, 3Km, Internal 90° Antenna, includes 1x Radio (Configured as Ptp or PtMP), 1x 24vDC Passive PoE Injector and 1x pole mount bracket (Wall mount is a cost option).
Features
Base station / Satellite (PtP)
Smart Station Coordination Function (SSCF)
Up to 3km (integrated antenna)
Up to 500Mbps compressed video throughput
5/10/20/40/80MHz Channelization support
User Configurable gain up to 23dBm (30dBm max)
24V passive PoE
Extremely compact and light
IP66 Rated Enclosure
-40°C to +65°C Operating Range
AMG8870F series is a range of outdoor wireless radios optimised for long range point to point and point to multipoint applications deliver the highest performance and stability available in the 5GHz 802.11ac class. The product combines a highly advanced radio core containing MIMO 2x2 technology with a full compliment of antenna options suited for a wide range of applications.
The feature-rich operating system is optimised for ultra-high performance wireless communication, 500+ Mbps throughput - the result of a powerful hardware platform with 802.11ac technology based radio and a proprietary data transmission protocol Smart Station Coordination Function (SSCF). Incorporating a QCA 9563 CPU (750 MHz), a QCA 9882 radio and 64 MBytes of RAM and 16 Mbytes of flash memory, the AMG8870F-06 radio is an ideal solution for capacity demanding applications.
The 24V Gigabit Ethernet port (passive PoE) allows utilising the full capacity of the radio when used in a point-to-point or point-to-multipoint network design.
The shape of the enclosure is now smaller, lighter but retains the IP-66 watre protection rating. Smaller packaging reduces freight costs and makes them less obvious. The new design has no metalparts, which makes them lighter and corrosion resistant.
Wireless Performance

Innovative Mounting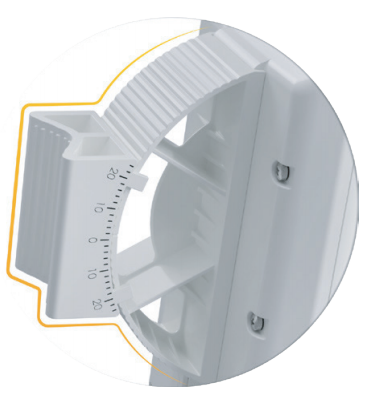 The adjustable mounting bracket is very easy to assemble and install. It consists of two easy
to connect parts that allow tilting the device up and down when installing on the pole.
A metal strap is included to securely tighten the device. This design includes additional
reinforcements and thicker materials to ensure survival in extreme climate conditions.
WLAN Standard
IEEE 802.11a
IEEE 802.11n
IEEE 802.11ac & SCCF
Transmit Power
Up to 30dBm (Country Dependent)
Channel Size
5 / 10 / 20 / 40 & 80 MHz
Antenna Type
Integrated Dual-Polarized 90° Directional Panel Antenna
Power Interface
24VDC Passive PoE Adaptor Included
Mounting Type
Pole Mount
Wall Mount (Cost Option)
Recommended PSUs
24VDC Passive PoE Adapter Is Included
Warranty
AMG 3 Year Support Warranty
Wireless Operating Modes
Access point (auto WDS)
access point
station (WDS)
station (ARP NAT)
Wireless Techniques
Smart station polling
smart auto-channel
adaptive auto modulation
automatic transmit power control (ATPC)
Wireless Security
WPA/WPA2 personal
WPA/WPA2 enterprise
WACL
user isolation
Network Operating Modes
Bridge
router IPv4 & router IPv6
Network Techniques
Routing with and without NAT
VLAN
WAN Protocols
Static IP
DHCP client
PPPoE client
Services
DHCP server
SNMP
NTP client
router advertisement daemon
ping watchdog
Management
HTTP(S) GUI
SSH
SNMP read
WNMS
Telnet
Wireless Tools
Site survey
link test
antenna alignment
Dimensions
Width = 380 (mm) / 14.96 (in)
Depth = 100 (mm) / 3.94 (in)
Height = 35 (mm) / 1.38 (in)